In an ideal world, where kittens and puppies play with unicorns and Republican Presidential Nominees didn't put women in binders, there would be no weight loss transition wardrobe.  One would simply wear clothes even after they became unflatteringly too big, tie them with bits of rope when they fell down, and then burned all of it but the best jewelry pieces and the most beloved silk top (which one would alter into a negligee) in a pile in the yard before prancing around like Julia Roberts shopping for a brand new everything, especially hats, belts, shoes, and the underbits.
Which would be the greatest.
In reality, certain things have to be updated, certain things can skate by (and altered), unless it falls off or looks truly horrible.  Right now I am cycling down into the smaller plus sizes, so I am going to stay there in transition one, looking for enough items to keep me polished at work, comfortable at yoga and the gym, and cute around town.
Update for Work
Some work clothes HAVE to be updated.  Unless you have a job I want, you have to bring a certain amount of polish to your outfit.  I am trying to focus on making one area more fitted – like a cami and v-neck sweater, while letting my trousers be less fitted.  Or vice versa, although now is so not the time to buy ANYTHING too tight believing it will fit well in 5 pounds.  Your body is just changing too much.
Olivia Moon top
LB v-neck (hot pink and black) — the awesome things about these is that if you care for them, they will make great slouchy sweaters in 20 pounds.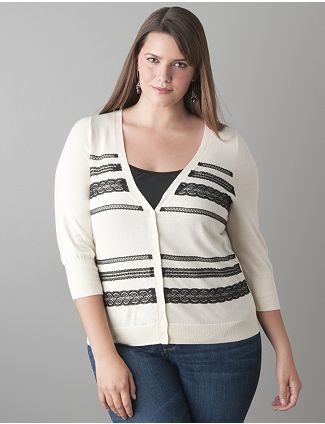 Lace Embellished Cardigan – take care of it now, sell it on eBay in 30 pounds.
Classic trouser pants – I've gone through 2 sizes of these and comfy in 3rd size  — Sejour at Nordstrom makes it reasonable!  Sell or tailor your pants when too big or donate to a great cause that helps women get together a professional wardrobe
A pop of awesome for under a classic suit or over jeans
REAALLLYYY Nice Trouser Jeans for those who can to work and those who can't for date night (skinnies may be in your future, but not on round one!)
Update for Yoga
The thing about yoga is that wearing tightish clothes is WAY more comfortable than a t-shirt and umbros or basketball shorts.  You are moving through so many twists, turns and inversions that fitted capris, a decent bra, and either a compression top or a tank is the ticket.  And if you are practicing every day, many times in very sweaty classes, this means you need a pretty decent selection.  You can save your looser pants and tops for yin, restorative, barre, or meditation classes, and go with tight shorts and a tank for Bikram/Hot, capris for power or vinyasa and longer pants for outdoor practice.   While I have serious Lululemon/REI/fancy yoga girl aspirations, I am a big fan of target's yoga wear.  I actually find the Champion capri pants to be one of the most reliable indicators of the changes in my lower body.  And the thin tanks are fabulous.  These clothes take a beating, but they also go on sale, A LOT, so by the time you truly drop a full size in Target capri pants, they're probably 30% off AND that size drop can be as much as 2-3 number drops.  It's okay to spend some cash on these now and save LLL for when you land and balance into a size.
Take the shoes off for yoga or for the gym!
A little flow for vinyasa
Hot or Power Yoga
Compression Tank
Built in Bra (if you have a smaller chest)
Sparkles in Yoga?
I DO like to spend a fair bit on a good sports bra, particularly if you might conceivably go to bra in a bikram/hot yoga class.  Not sure I am mentally there yet, although after last night's class, a decent bra and 105 degrees could make it happen.  Nordstrom or a great running store like Fleet Feet.
Save and Make it Work
I spend a fair bit of cash on my suits, because I wear them to my most important of work occasions, sometimes to weddings, funerals, professional events, and even the theater or symphony.  So unless I bought the suit cheap to fill in a gap, I'm going to make it stretch with fitted tops, shoes, and accessories, and then box it up for the tailor.
Suit
Classic Pleated Skirt
Work dress
Classic Coat
Keep your classics as long as you can and have them tailored.  If you can snag a classic piece or two along the way, do it, but with the intention that it will be good enough to save and tailor when you go through round 2.
Add a Little Life
So now that you have gotten thinner and feel better about your legs or waist or tummy (or all of it), it makes sense to invest in a few work pieces that let you show it off and stay inspired.  Again, I think Nordstrom gives great value for this in their house plus line, Sejour.
Sejour Herringbone Skirt – easy to alter once you land and balance in a size.
Fun and unique jewelry is ALWAYS the answer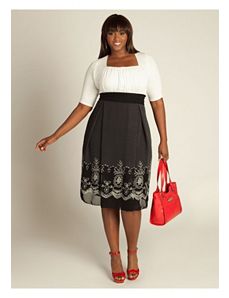 I am so actively considering this dress for work to night with the girls!
Statement Jewelry or anything by Kate Spade
Pants in a new-to-you shape.  I want these ridiculous leggings for around the house, yoga, and maybe an incognito trip to whole foods, but only after yoga and before couch surfing.  Forgive me, DSS
Luxurious wide legs – show off those toned arms with fitted tops and purposely loose pants.
Flattering Sunglasses – Feeling so Black Cat Eye right now
Where to Spend your Fashion Dollars
Great Classic Makeup.  Loving Bare Escentuals, Dior, Nars, and YSL this year.
Good cut, color and style.  I am really favoring a high bun and pinned bangs right now.  The thinner you can make your face feel and the easier you can keep your hair, the more likely you are to hit that gym running (or studio posing!).
Fun hair accessories, like this upcycled tie clip
Sun kissed summer face can become a great contoured fall face
SAVE!!  for Julia Roberts Shopathon!
More weight loss wardrobe update looks coming this week!
Did I forget something?